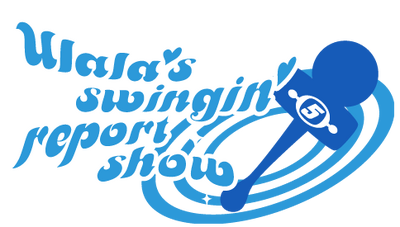 Ulala's Swingin' Report Show is a Channel 5 TV show in the Space Channel 5 series, hosted by Ulala. During the show is when the gameplay takes place.
On one occasion, it was a special broadcast in Report 2 of Space Channel 5 Part 2. This special broadcast cancelled another Channel 5 show, Tasty Cookin', however, it was just a rerun.
Even if the Channel 5 studios are "out", the Swingin' Report Show can be broadcasted via the Emergency Circuit, as seen in Report 5.
When the show's ratings reach 0% or stars reach zero, Ulala's Swingin' Report Show ends.
The show's jingle and logo change from the first game to its sequel.
Ulala's Swingin' Report Show also appears in Sega Superstars in the Space Channel 5 mini-game, although it was erroneously named "Ulala's Swingin' TV Show". This could have been intentional, or it could be a completely different Channel 5 show.
In the Special Edition of Space Channel 5 released in America, Ulala says "Ulala's Swingin' Report Show" in her Japanese voice in the first disc, although this is not the case on the second disc.
In Part 2's Special Report, it has the original jingle from the first game for Ulala's show.
In Space Channel 5Edit
In Space Channel 5 Part 2Edit
Community content is available under
CC-BY-SA
unless otherwise noted.