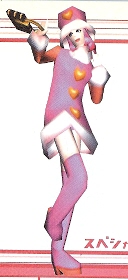 The Heart Woman is on the Space Symphony ship when the Rhythm Rogues attack in Space Channel 5 Part 2. She and Money Bags are dancing silly when Ulala makes her comeback in Report 1. She follows the pink-haired reporter all the way to the Kin Kon Kan battle, and marches out of the Lookout Dome with her.
In-game Profile
Edit
"Became a master of disguise through her training at the private investigation company "Superior Secret Agents." Famous for her deliberacy and composure towards work."
The Heart Woman shares some characteristics with the Space Channel 5 character Millicent Rose, as both of them are masters of disguise.