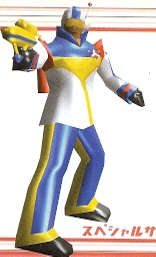 The Space Rescue Police is a special squad dedicated to helping people across the galaxy in the Space Channel 5 series. However, when Channel 5 gets involved in a related crisis that they're handling, the Space Rescue Police wind up being the ones in need of saving.
Space Channel 5
Edit
The Space Rescue Police arrive at Spaceport 9's flight control tower to help the people there, but their attempt goes horribly wrong. It's up to a young, spunky reporter to free them from their hypnotized state.
On the Luxury Spacecraft G, a member of the SRP in the ventilation system is being held hostage by two Morolians.
In-game Profile
Edit
"The SRP is in charge of saving those who are victimized in outer space. They were Plan A for overthrowing the Morolians when they attacked, but apparently that didn't quite go as was expected..."
Space Channel Part 2
Edit
In the sequel, the Space Rescue Police have been dubbed as "Rescue Police (leader)" and "Rescue Police (troop)" (although the former is completely different in appearance except for the obvious 'team colors'). The troop appears in Report 4, their rescue attempt gone awry as Silver Flyers have caught them. Cue entrance of Ulala to free the team and their leader.
Rescue Police (leader)
Edit
In-game Profile
Edit
"The strong and dependable leader of the Rescue Police. Former professional swimmer. Faces danger and disaster on a daily basis to save the lives of people across the galaxy."
Rescue Police (troop)
Edit
In-game Profile
Edit
"A member of the organisation that serves as both Fire and Police dep. for the entire galaxy. Note: Pine is a special investigator at the dedicated Police Unit of the same organisation."
The Space Rescue Police leader is said to be good friend with Ulala since she saved him (from the french version of the game).
The track Report 4 - Space Diver is an obvious reference to the SRP in Part 2, especially its leader, who is seen "swimming" (in space) when saved.
One of the bonus tracks on one of the remix discs has the Rescue Police singing lyrics to Space Diver.
The SRP are one of two 'Dancelings' who can be found amongst normal hostages as well as on their own, the other being Orville Plum. However, they do not break out into their unique 'strut' unless they are rescued on their own.
Community content is available under
CC-BY-SA
unless otherwise noted.