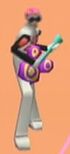 Rocka Billy is one of Pudding's Henchmen in Space Channel 5. He plays guitar riffs in the background as Pudding and Ulala have a dance-off on top of the flight control tower at Spaceport 9. After Ulala's victory, he follows behind her, providing killer riffs.
In-game Profile
Edit
"Space Guitar Player
A dedicated musician, he produces riffs which are out of this world. He has been trying to woo Pudding for years, but she doesn't like how he smells."
According to his Japanese profile in Part 1, Rocka Billy's name is Jun.