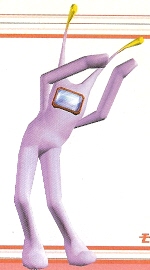 Proonk is a pink Morolian following the orders of the Morolian Godfather, Hoorg, in Space Channel 5.
In-game Profile
Edit
"Favorite color: Ochre
He is shy, but hates being alone. He feels more relaxed when elevator music is playing. The walls in his home are lined with red velvet."
His name seems to be derived from "Pink".

In the Japanese version, his name is "Pimoro (Pink)".