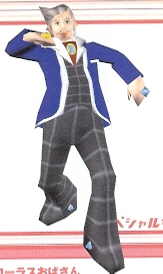 Money Bags is relaxing on the Space Symphony when the Rhythm Rogues attack the ship in Space Channel 5 Part 2. He and The Heart Woman are dancing silly when Ulala makes her comeback in Report 1. He follows the space reporter to the Kin Kon Kan battle, and marches out of the Lookout Dome with her.
In-game Profile
Edit
"An aristocrat who owns 7 dwarf planets and 16 space cruisers. He was enjoying a secret love cruise when the Rhythm Rogues ruined his amorous plans."
In the French version of the game, he is named "M. Richard" which is a pun on the word "rich" (wealthy) and the real name "Richard".
Since he is seen with The Heart Woman in the beginning of the first report, it can be assumed that she is part his "amourous plans" stated in his profile.
Except for Man (Couple) and Woman (Couple), he is the only character to wear rings and jewels on his hands.