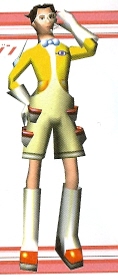 Lance Sterling is a worker for Space Channel 5 in the series of the same name. He's easily forgettable as he mostly works behind the scenes, and is only on screen for brief periods of time.
Space Channel 5
Edit
Lance is seen several times throughout the Morolian invasion, and can even be saved by Ulala on one occasion.
In "Report 2: Spaceship S.O.S.", Lance is temporarily seen during on the technical difficulties display just before Jaguar appears on the scene.
In "Report 4: Evil in the Galaxy Revealed!", Lance is trapped in the "Alien Up-Down Quiz" in Channel 5's recording studio.
Like everybody else Ulala saves, Lance joins in on Ulala's chant support during the final dance-off and marches off to the end of the galaxy with her.
In-game Profile
Edit
"Channel 5 Staff
He does his best to create enjoyable TV programs and to keep the viewership high. A big fan of Ulala's, he is biding his time before asking her out."
Space Channel 5 Part 2
Edit
Lance pops up in the sequel under the name of "Channel 5 Peon". He's able to be saved at Channel 5 Headquarters along with some other workers.
Although lance is still as loyal as ever to his duty, and shows up on the technical difficulties display halfway through "Report 6: Purge's T.V. Special".
In-game Profile
Edit
"I am so happy to be at this station making very interesting programmes. That's me standing there when you see the "Technical Difficulties" display!"
Lance is only available to be rescued in Extra Mode in both games.

The Recording Studio at Channel 5 HQ is only accessible in Extra Mode. Furthermore, Ulala must get some moves wrong in order for Lance to show up.

The name "Channel 5 Peon" might be an allusion to former-CEO Chief Blank and his comment on peons and truth.