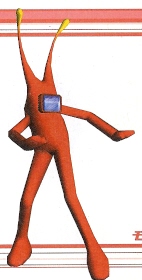 Cred is a red Morolian following the orders of Hoorg in Space Channel 5. During the Morolian invasion, he was always seen next to Blib.
In-game Profile
Edit
"He is short-tempered and hasty.
Despite appearances, he loves small animals and has a pet mouse which he found in the duct of a spaceship. Since it hasn't been tamed yet, he feels a bit sad. He has a mouth like a sailor."
His name seems to be derived from "Red".

Artworks show him red. However, in the game, he is more magenta than red.
In the Japanese version, his name is "Remmoro (Red)".