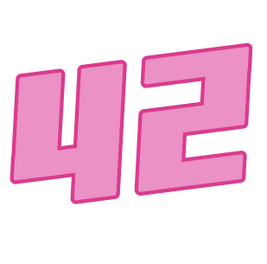 Channel 42 is a space broadcasting channel in the Space Channel 5 series. As its name implies, it is the 42nd Channel in the galaxy. Channel 42 is one of the seven known Channels in the era of Space Channel 5. It's also a Channel 1, Channel 5, and Channel 88 frequent concurrent in the race for the scoop.
Channel 42 logo consists of a pink "42", with a dark pink outline.
Employees
Edit
Pudding, the main Channel 42 reporter. Former teen idol, she's also a guitar expert.
Pudding Bodyguards, act as groupies and bodyguards for Pudding. They also hold Pudding's mike when she is playing guitar. Their actual role in the Channel is unknown.
No Channel 42 cameramen are shown in-game. However, it can be assumed that one of Pudding's Henchmen acts as a cameraman for her.
The rest of the Channel 42 staff remains unseen.
Channel 42's Headquarters is never seen in-game. It is unknown what it looks like or where it is located.
Only the appearance of its antenna is known. It's a green antenna, slightly resembling the one at Channel 5. Channel 42's logo is not seen on it, although its green color implies that it belongs to Channel 42.
By the time of Space Channel 5 Part 2, the antenna is stolen by Purge and used for his Ballistic Groove Gun. The antenna then merges with the others to create one big antenna. What happened to the antenna after the final blow is unknown. Moro-news, when reporting on the Rhythm Rogue assaults, show Pudding hiding her face with her arms, implying that she was present when Channel 42 was attacked.
The game doesn't state if Channel 42 studios was destroyed by the Rhythm Rogues like Channel 5 HQ after its antenna was stolen.
Because of the presence of two guitarists in Channel 42 (Pudding and one of her henchmen), it is possible that the Channel is music-oriented.
Although the name of Pudding's report show that Pudding is unknown, Sega Superstars Tennis indicates that it may be named "Pudding's Rockin' Show," as that is the name of Pudding's special move.
According to the Sugoku Sugoi Guide Book, Pudding has a show called "Pudding's Non-Stop Live."