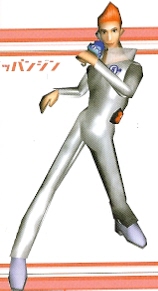 Brent Suzuki is a news presenter for Channel 5 in the Space Channel 5 series. He is usually seen near his co-host Ms. Valala Petrie.
Space Channel 5
Edit
"It's time for the news!"
Brent is attacked by the Morolians in Channel 5's Recording Studio. He's forced to dance with Ms. Valala on top of a news desk while Ulala struts in with Pudding and Jaguar to save them.
In-game Profile
Edit
"Favorite color: Brown
The main newscaster for Channel 5, he and Ulala go way back. She doesn't know about his extensive space lizard collection, however, and it's probably better that way."
Space Channel 5 Part 2
Edit
During the Rhythm Rogues' reign of terror, Brent is known as "News Presenter (Male)". Ulala meets and frees him inside Space Channel 5 HQ when the Rogues attack.
In-game Profile
Edit
"A familiar face on the Channel 5 news. A regular member of the general reporting team in the new reading dep. Rumour has it that his bladder tingles 60 seconds before going on the air."
Brent Suzuki is always found in Extra Mode.
In Part 2, he has the same blue mike as Ulala.
According to the Gyun Gyun Guide Book, Brent Suzuki and Valala Petrie are newscasters on the show "Star News Station" in Part 1.
Metallic grey suit seems to be one of the official Channel 5 outfits, as important employees wear it, like Brent, Valala and Space Michael.

Alternatively, the metallic grey suit may be the official outfit for "Star News Station,", as Brent and Valala are the show's newscasters, and Space Michael is the show's reporter.

In the Japanese version of Part 1, his name is listed as "Susuki," rather than "Suzuki." His full name is not provided in the Japanese version.